Waveform Tags: Movable text-based Tags can be attached to any portion of a waveform. These tags will appear on reports, and are saved with archived waveforms.

New View Modes: Scroll through a maximum length raw data file using Windows scroll buttons. This feature allows viewing and fast isolation of points of interest of an entire waveform file that is otherwise too long to fit on the screen, performing much like a chart recorder display. Multiple data windows can sized to fit the display area, or 'tiled' for easy access.

New Zoom Modes: Paint the part of the waveform you want to expand, "click" - and there it is! This new feature allows variable expansion of the portions of interest on a waveform, up to the full pixel limit. Taking maximum advantage of the WinCAT high resolution digitization process, the Paint Zoom function works with Windows tools such as magnifying glass zooms and up/down arrow expansion buttons.

New Report Features: Do you want to design your own multi page test report, showing the raw data waveform plus analysis plots (such as SRS, or PSD), and any other graphic or text information you desire? Simply 'cut' the required data screens including numeric data blocks, to the Windows Notepad, then paste them into your word processor or other software. Full color control of all display functions are available to enhance the appearance of your report. You can change the background to white, and have colored or black and white waveforms and grids on your reports.

Familiar Features: Some functions carried over from CAT programs include digital lowpass filtering, and triaxial acceleration and force sensor resultant vector magnitude and pointing angle solutions. Also included are displacement mode (SDOF), either from drop or "0" velocity launch, useful for package design analysis, and pyroshock and vibration analysis through integration of the velocity term. Other screen editing functions include move, inversion, and hold of unfiltered and filtered waveforms for comparison of the degree of filtering are also standard.

New Help System: An extensive and unique Help Screen Menu function provides on screen interaction with the user to fully describe key features of the new software, in addition to "Context Help Flags" which appear when the mouse is placed over any selection button.
Edit,attach, and print out tags on waveforms.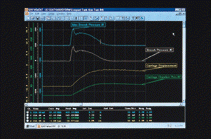 Variable waveform expansion

Post processing low pass digital filter.

Triaxial sensor resultant vector plot with angle.